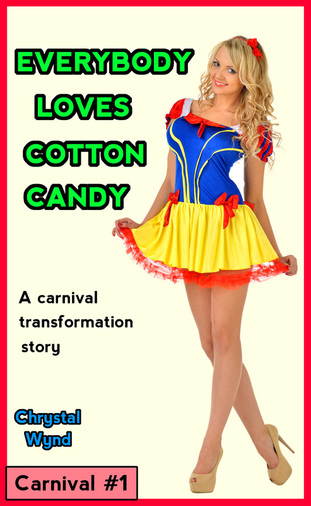 Everybody Loves Cotton Candy


Carnival #1

The Chrystal Heights carnival is in town and nothing there is ever as it seems. A hoodlum gang of girls discovers this to be true when they attempt to assault the carny jester, Wellington, a being of power. But Wellington is not a man of violence. He will instead give the wayward girls their childhood dreams. Wellington will give them a chance to join the carnival.

This 5000 word story is for adults only and has elements of mental domination, transformation, bimbification, breast enlargement, oral and f/f.

An excerpt:

The jester took several steps away and then turned and faced the dazed girls. He extended his hands in front of him, spreading out his fingers. Then he pointed to Desiree, who was still lying on the ground, although her eyes were open. He said, "Come, now, dear, upsie-daisy," and he lifted his hand.

Desiree got to her feet with a jerky motion, as if someone had pulled her up by puppeteer strings. Then she turned and faced Wellington. She became motionless once again, but her eyes reflected shock.

"Very good, dear," said Wellington. "Now, let's give the three of you a test run, shall we, my sweets? Excellent. I am going to make you dance like the sweet flowers you are. Not only shall you dance, you shall remove your garments and allow this poor jester the vision of your bare delights."

Wellington began to manipulate his fingers much like a puppeteer, and then Valarie, Janey and Desiree began to dance. At first, they moved robotically, with jerky motions and little choreography. Then their movements began to smooth out and they began to take on a visible grace. They smiled and twirled on their toes. Then their hands began to slide their clothing off their bodies, until at last all three were fully naked. Wellington curled his fingers into fists and pulled them in opposite directions. "Freeze!" he said, and all three dancers stopped in mid-movement, rigid.

The jester walked around the three girls, patting their bottoms, running his hands over their rounded hips, running a finger along their jaw lines as they stood motionless on bare feet. Finally, he nodded.

"Yes, you three are lovely indeed," he said. "You will do quite well for what I have in mind. But first, some minor changes, my lovelies."

He walked to Desiree and ran his hands along the mulatto girl's bare mocha shoulders and over her bare belly. "Lovely," he murmured. Then he placed his hands over her breasts and concentrated. Her breasts began swelling under his cupped fingers...